Ciao tutti,
This year it seems that each conversation begins or ends with "I hope that you are staying safe, wear your mask and what a crazy year." It is a time that will go down in the history books, one which we will never forget. For those who got sick and for those who lost loved ones, the pain has been immeasurable, and my heart goes out to you.
But, for this blog I would like to give you a wee update on coping with Covid at Villa Reniella and a shoutout to entrepreneurs coping with Covid in general, but more particularly to a few entrepreneurs with a Tuscan connection. Covid has forced us all into thinking of new business scenarios, from those with the painful mantra of "what a f*%#@%ing year to start a new business" to "how on earth do we stay open"? It is hard enough launching a new venture in the best of times, but 2020 gave entrepreneurs an even steeper uphill challenge. "Can I open? Sorry we are closed. Oh, back open. I just don't know what is going on!" Certainly the COVID crisis has made us more creative, nimbler and relentlessly looking for the silver lining amongst the storm clouds. As we crawl through the last few weeks of this year with the holidays in sight, I would like to give a shout-out to a few small local businesses with a personal connection, whom I support as they produce gifts that tell a story and are joyfully different.
---
AOB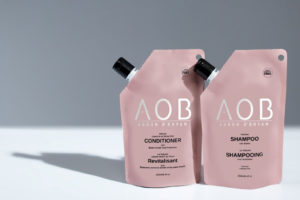 Let me begin with something I am sure all of us can identify with – hair. What a year this has been for our luscious locks. We have hacked away, self-dyed our roots and bribed our hairdressers to fit us in when each lockdown was lifted. I have listened to my Irish-Toronto-based friend Aaron O'Bryan for years as he excitedly shared ideas for his own brand of hair products. His enthusiasm never waned whether in his salon in Toronto or behind the scenes at the Marilyn Denis Show where he made us all look fabulous for the telly. His ideas I have to say are genius. Aaron has revolutionized hair care with a plant-based line of products that come in recyclable, flexible bags. Gone are the glass bottles or rigid containers. Being a thrifty Brit, I love the concept of being able to squeeze every last drop from the bag. Aaron was all ready for his big product launch when Covid hit, his salons closed, and the launch events had to be cancelled. But with the luck of the Irish, his cheeky grin and tons of tenacity he went on-line. We are all desperate for silky, healthy hair, so what better Christmas present than fabulous hair products? Let's support him.
Thank you, Aaron
---
Il Casale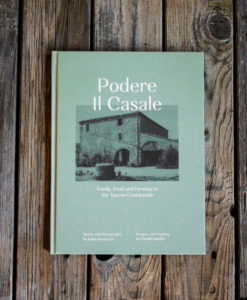 And now for something completely different. Creating a beautiful book is not easy – the writing, the photography, the layouts and the publishing is a true labour of love. Then 2020 comes along, it is your publishing debut and like the air expelled from your tires, it leaves you standing at the side of the road exasperated. Let me explain. Fifteen minutes from my house in Tuscany is a very special place. Podere Il Casale is an organic, bio dynamic farm founded by a Swiss family, Sandra and Ulisse and their five sons. Thirty years ago they had what was then a radical idea – living and working an organic lifestyle. This dynamic couple left the wild world of Zurich's punk rock scene and went back to the land, transforming a rundown, ancient farm surrounded by breathtaking views into a sheep farm specializing in the area's famous Pecorino cheese. They built vast vegetable gardens, raised livestock and opened an onsite restaurant that is now a destination for locals, ex-pats and a must-visit for anyone holidaying in this part Tuscany. What makes Il Casale so unique is the experience of dining at a Tuscan farm where every morsel on the table comes from their land: the wine, the meat, the cheese, the veggies, the bread, the water and of course the pizza. This is a true Kilometer Zero, farm-to-table experience. In fact, many times the farm's animal residents wander between the tables as you are tucking in. Peacocks will display their feathered glory while you munch on homemade ravioli. Guests such as Pink, Shakira, Conan O'Brian and Giada de Laurentiis have been upstaged by runaway piglets or dancing goats. But it is the owners' story, one of resilience, rebellion and sheer determination that resonates with so many of us, as our own thoughts have turned towards the possibility of living a rural lifestyle. Sandra and Ulisse had been working on their book, part history, part cookbook for years, with a self-publishing launch scheduled for, yes you guessed it, 2020. What a year to launch a book, but they did it anyhow – a book to inspire us with simple Tuscan recipes and heartwarming stories, but above all, the motivation to keep moving forward. What an unexpected gift for someone you love. Thank you Il Casale, for sharing your journey.
---
Tutti Matti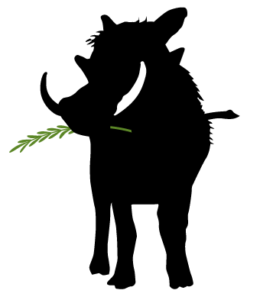 This year has hit the restaurant business drastically. The forever changing rules and the inability to function normally have left owners and staff reeling. They need all the help they can get in order to stay afloat. I love Tuscan fare and when I am in Toronto my favorite go-to place is Tutti Matti, run by owner and chef, Alida. Her wood-fired oven and seasonal fresh ingredients is the next best thing to tucking in like a Tuscan. 2020 was meant to be a big successful year for Alida. After training in Tuscany in my neck of the woods (actually Montalcino, home of the Brunello wines), she built her restaurant from scratch and finally she was able to take on a brand new, massive renovation in time for a big 2020 season. Of course, the rest is history. A year of struggles, yes, but she is a survivor and a talented Tuscan chef. So why not gift a meal or a gift certificate to someone you love, living in or planning to visit Toronto – what a yummy, unique gift.
Thank you Tutti Matti.
---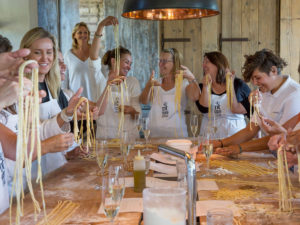 Covid has put visiting Villa Reniella in Tuscany on hold for now, but we will be back with all our retreats before you can say 'ravioli.' As I mentioned before, the challenges that the Covid restrictions and lockdowns have presented made us more creative, our team being no exception, and we have something incredible up our sleeve. Since you can't come to us, we will bring Tuscany home to you. The ultimate gift to yourself, a beloved friend or family member. Over a weekend in early January, we will be holding a VIRTUAL HAPPINESS RETREAT. Together we will celebrate a New Year and a New You by life-streaming a packed weekend of pure joy from Villa Reniella. There will be yoga, meditation, nutrition classes, Tuscan cooking lessons, trips and inspirational interviews. And, if you can't make it for the full weekend, we will be recording the life-stream and it is yours to enjoy over the next six months. I will be announcing full details very soon on my social media channels and my websites debbietravis.com and tuscangetaway.com. Now that is a gift worth giving.
These are just some local, small businesses that I am supporting, and I hope that you can too. Wherever you live, there are plenty of local entrepreneurs that need help. So, let us support local, because we need them as much as they need us.
Debbie and the Tribe at Villa Reniella